Existing roof joists after ceiling demolition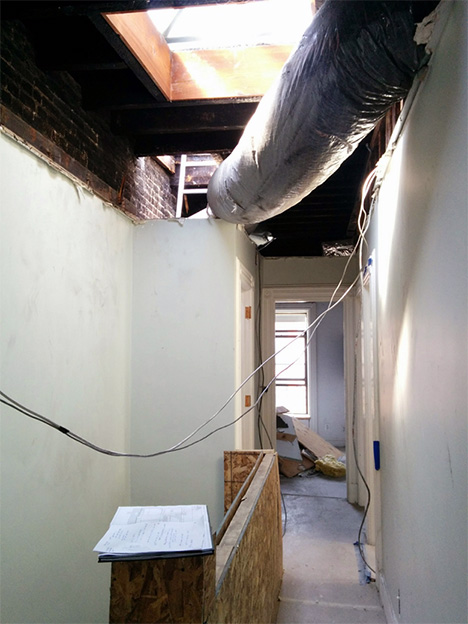 Existing skylight framing and air conditioning duct after ceiling demolition
Demolition
We started last week! So far the contractor, Jimmy Wessels of American Contractors, has ripped out the ceiling and removed all of the doors and lights for safekeeping. We plan to get the ductwork and existing air conditioning units out tomorrow and begin to frame the new floor structure next week.
New stairs
The task this week is to determine exactly where the stair opening should be framed for the new stairs up to the new top floor. In order to do this, we need to know how many steps will be required up to the new floor. This will be determined by the height from the existing finished floor to the new finished floor above.
We decided to keep our existing ceiling heights more or less the same on our existing top floor- 8'-6" to 8'-8" depending on the room- and know that our new floor framing joists / beams will be 10" tall. We have also decided that we should keep a +/-6" cavity below our joists to allow for ductwork, electrical wiring, some piping and whatever else we need to run in there. If you add a new plywood subfloor and a new finished floor on top of this all, you get almost 10'-4" from our existing finished floor height up to the new finished floor height. This is, reasonably, 16 stair risers with 15 stair treads.
Plan of attack
Note that the following paragraph about framing is pretty technical, so feel free to skip!
With a finished house below, we really, really don't want to take the existing roof off without being able to cover the house up again quickly. For this reason, we plan to keep the roof on and frame as much of the new floor as we can before we need to remove the roof structure and the roof.
Our desired ceiling height on the existing top level will allow us to frame most of the new floor framing below the existing roof joists until we get about 2/3rd of the way back when the existing roof will get in our way. Our plan of attack is to frame the front of the building first (starting next week) and then frame the new level above and the new upper roof and sheathe it. Then, we can work below the new roof and rip the existing roof and frame the rear 1/3rd of the floor joists. Sound confusing? It is a bit. Hopefully, the section drawing below will help. The red line indicates the existing roof line more or less. The blue circled parts are the joists that will get framed in the order they will get framed – section 1, then 2, then we can rip the roof off, tarp the front area above section 1 and frame section 3.
A plan view of the new top level floor framing looks like this with section 1 in front and section 3 in back (section 2 is above this plan):
A word about schedule
Our goal is to be done with the project in +/-6 months. With any major renovation project, unforeseen site conditions can arise that may force changes and may slow progress. This is especially true when adding an addition to a building – weather can become a major factor. I can almost guarantee that we will have the worst hurricane or monsoon Brooklyn has ever seen within a day or two of when we rip off the roof.
But, we can only control what we can control. By filing our project very early with the DOB and getting it approved over a year ago, we were able to select exactly when we wanted to start. We felt too busy to move last summer, so we renewed the permits (which is fairly inexpensive) and waited. I would highly recommend to anyone planning to undertake a future project to get the approvals process started now so you can have approval and permits in hand when you determine to start construction rather than having to wait for the highly unpredictable DOB process to play out. Our projects of similar scope (obtaining a new Certificate of Occupancy) have taken anywhere from 4 months to 13 months to get approved with the average somewhere around 6-7 months.
Some potential issues out of our control that may affect the timeline are:
condition of bricks at party wall for pocketing in new joists or building in ledgers
issues with neighboring buildings
contractor and sub-contractor schedules
Another important factor that I can (theoretically) control is my own decisiveness – I am going to have drawings and decisions to the contractor in as timely a fashion as possible. And, yes, I have gone on record here claiming this but will be the first to let you know if I start to agonize over a light fixture or tile and delay my own project…
Next time – Framing