One more TBT for our Crown Heights Limestone! This week, we have some details of the parlor.  First up: the fireplace.
This is one of those funny items in Brooklyn townhouses where 'original' can get a little fuzzy.  Chimneys deteriorate over time, and are quite expensive to restore, so there are more homes in Brooklyn with modified fireplaces than you can shake a stick at.  Instead of repairing the chimneys, owners of yore often opted to seal off the openings with decorative grills (on the left, well-preserved, and in the middle painted shut and the mantle replaced with a simpler shelf), or cheap make-shift materials (fake bricks printed onto plywood, anyone?).   It was often a budget decision, but had the added benefit of ensuring that none of your tenants could accidentally burn the house down.
In the front parlor, however, some previous owner of this house got even trickier; a pier mirror is slapped over the chimney.  It looks like it should be an original feature of the home, but these photos are of the same spot in the house, pre- and post-demo.  Lo and behold: a formerly-functioning fireplace.
Pier mirrors are a traditional element in many Brownstones, but they usually go in an entrance hall, or above a fireplace.  The general style of this one matches the other fireplaces in the house, so it appears original, but the odd location almost certainly means it was an add-on.  It would be an oddly expensive and functional element to box over from day 1.  The clients were initially ok with taking out all the chimneys to make their floorplans more flexible, since they were presumably damaged.  But demo revealed that this one was actually in pretty good repair (why the mirror, then? an enduring mystery), so it remained while the rest were removed or repurposed.
So now we needed a mantle.  The mantles in this house, however, were a Victorian style that the clients hated.  They hesitated.  Isn't it somehow criminal to remove details like this? Will a militia from the Brownstoner comment boards come occupy the house? Happily, there is a middle ground.  We ensured that the other mantles were sent to better homes, where their new owners loved them, and looked for a different antique mantle that was more in keeping with the new design.  Another BHA job had an extra, after a floorplan shuffle made it obsolete.  It traveled one zip-code over, the contractor installed a new flue, and boom: an 'original' fireplace that's not original at all.  But at the same time, since the chimney is opened back up, it's more original than how we first found the house.
This is typical of our projects, in a way that might make strict preservationists itch.  We trade mantles between projects all the time, and consign lovely pieces that just don't make sense anymore in the new plans to architectural salvage yards like Demolition Depot or Olde Good Things.  We purchase items from those yards all the time.  Ben likes to encourage our clients to remember that, back in 1890, these details – which seem so special now – were in fact cookie-cutter materials that got installed into every house on the block.  This isn't to say that old things are not worth saving; just don't let the tail wag the dog.
The goal is not so much to preserve a specific piece of molding even if it's banged up and crusty, or to keep a terrible layout so as not to disturb a beautiful inlaid floor border.  It's to breathe life back into the beautiful craftsmanship of these homes, whether that's through restoring originals or simply replicating them with the same kind of integrity.  Homes are living things, built to house living people, and we believe they should work for real life.  Floor borders can be patched and repaired, and craftsman can replicate plaster moldings, stained glass, custom millwork.  Carefully-removed pier mirrors can (and will) find a new home.  So if you hate the dang thing but it seems too nice to toss, look into a local architectural salvage yard, and get it out of your life!
Back to the house.
The stairs, which we already previewed with the newel post, were one of the original details on this project that we restored and enhanced.  They remained in the same place, boxed and protected during construction, but received some loving attention from the painting team.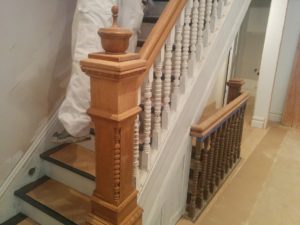 Balusters, particularly very detailed ones like these, are prohibitively difficult to strip on-site.  Unless you're dismantling the stairs to have them dipped and stripped, painting will be faster, less expensive, and will probably look better in the end.  The railing, however, was relatively simple to strip, so back to wood it went.  The steps were also stripped and scraped to remove years of paint and glue, but since they were never nice stain-grade wood to begin with, we painted the risers a fresh white and the treads a durable black.  Fun fact: if you have mis-matched or damaged balusters in your Brooklyn townhouse, we often find boxes of random, loose balusters in the basement.  If you don't, ask some neighbors! It's likely that the same style was used for the whole run of houses on your block, and their basements may be goldmines.
The niftiest enhancement is the addition of step lights, which are pretty as well as safe for fumbling around at night.  Here we have photos of project manager Ilva checking the placement, and then the drilled holes where the puck lights were wired in.
There, we fixed it.
We've seen it before, but I'll look at it again.  Lovely details are what a good TBT B&A are all about.
before&after, brooklyn, brownstone, chimney, fireplace, in-progress, mantle, renovation, restoration, stairs, townhouse